Does your pharmacy have an online presence? Are you using a website builder? Apart from a complete Google My Business listing, it's important that your pharmacy has a website to serve as your online sales team, available to answer questions and provide information 24 hours a day, 7 days a week. 
Today, there are a lot of website builders and content management systems (CMS) on the market, each offering different features and functionality to support their ideal user in the best way possible. 
Before we jump into comparing the three most popular website builders on the market – Wix, Squarespace and WordPress – here are a few things to consider to help you choose the best website builder for your pharmacy. 
What should pharmacies look for in a website builder?
A website should help you promote your business online and increase sales and bookings for the various services you offer. 
Easy to publish content 
Your website is where you will publish a lot of written and visual content. Your website builder should make it easy for you to create new website pages, edit existing ones, and offer a smooth blogging workflow should you decide to start blogging. 
Functional website design
A lot of website builders offer a range of templates and customisations that make it easy for you to design your website and arrange your web pages. Your goal is to make it easy for users to find the information they need with the least number of steps. 
SEO is important
Search Engine Optimisation (SEO) is important for pharmacies that are serious about building their online presence. A website builder that offers some level of SEO customisations may come in handy as your website grows and increases in complexity. 
Selling products online
E-commerce functionality will be important for pharmacies who want to sell their products to a broader audience. Of course, this comes with its own set of operational challenges so it completely depends on your business goals. 
Booking services online
As telehealth services and the digital front door become more common amongst pharmacies, your customers will likely want to be able to book your services online, whether that may be a remote consultation or an in-store service like getting the winter flu shot. 
Website performance reporting
The website builder you choose should offer reporting tools that allow you to monitor your website's performance to see what's driving traffic, purchases and bookings. While Google Analytics can be integrated to your website for a deeper level of performance tracking, it might not be necessary for websites that are just starting out. 
Integrations to 3rd party tools
As your business grows, your website and digital marketing will become an integral part of your overall strategy. You might want to integrate your site with 3rd party tools like HasHealth for appointment bookings, WooCommerce for online sales, or HubSpot to improve your content marketing. Not all website integrations are equal so it's best to check if your chosen website builder supports the integrations you might be interested in in the long term. 
Internal technical capacity
Do you or your team have the technical skills to build a website from scratch? How much customisation would you like and do you have the skills and knowledge to execute it? In the long-term, it would make sense if someone on your team could handle maintenance – is anyone interested in that? If necessary, you could also hire freelance web developers to help you build a functional site for as little as €20 an hour. 
Comparing popular website builders
Wix Website Builder
Generally, Wix is agreed to be the easiest website builder on the market. Its drag and drop interface means that users can easily select the type of content to add anywhere, on any webpage. While these elements won't snap to a grid, you can turn on rulers and gridlines to help make sure your content elements are aligned.
Image from Wix
Wix's business and e-commerce place include built-in e-commerce features that allow pharmacies to sell goods and take bookings for services online. However, when compared to more advanced e-commerce tools like Shopify, some of Wix's features are less extensive. For example, Wix offers fewer payment and shipping options compared to Shopify.
When it comes to SEO, Wix offers a lot of customisations to help boost SEO, for example editing meta tags, customising structured data, accelerated mobile pages (AMP) for blogs. However, it might take a couple of days for new pages or websites to be indexed by Google. Wix has written in-depth guides to help its users. 
In May 2021, Google announced a search algorithm update that takes into account mobile site performance, meaning that websites need to deliver a great mobile experience to rank well on Google. The good news is that Wix website pages automatically adapt to mobile with a separate editor for mobile content, giving you the flexibility to customise the content you want to show mobile users.  
From personal experience, I've noticed the Wix backend tends to be a little slow to load and save, especially as you dive into more complex features like the Content Manager or when retrieving form submission data. 
Lastly, it's important to note that you can't export your Wix site which means that if you want to move to a different CMS in the future, you will have to rebuild the entire site from scratch. 
Who should use Wix? 
Taken together, Wix is an incredibly user-friendly website builder for beginners, perfect for businesses who want to get a website up quickly or those who don't enjoy getting stuck in the nitty-gritty of website building. It offers enough customisations for most small businesses, but not nearly as extensive as WordPress, for example, which means more advanced users might feel limited by Wix.
Squarespace Website Builder
Squarespace is another all-in-one website builder, with an emphasis on sleek and modern-looking websites. It comes with design-focused, image-driven templates that make it very easy for users, even beginners, to create stunning websites. It also offers a drag and drop interface where users can drop content blocks into a structured editor to help achieve a clean and polished website.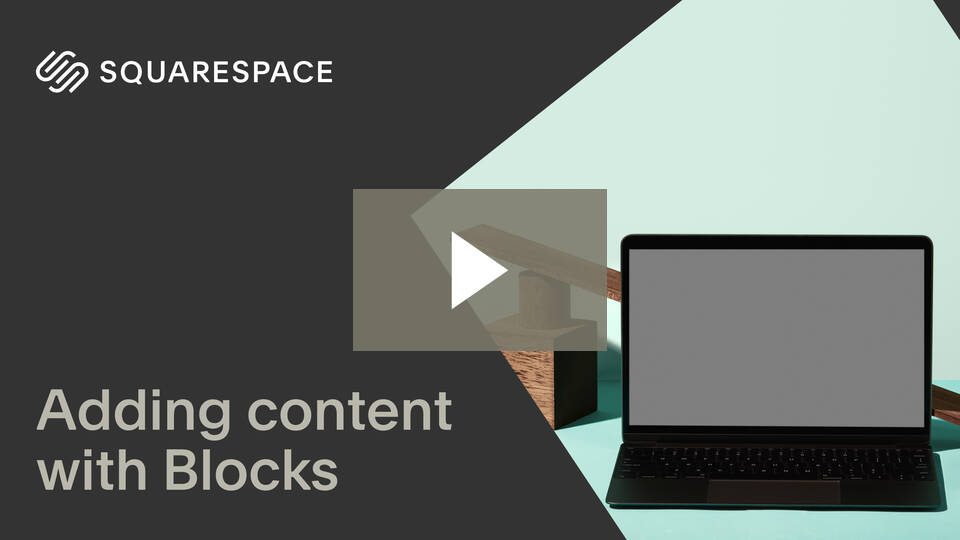 Video from  Squarespace
In terms of ease of use, Squarespace falls firmly in between Wix and WordPress. While it's easy enough to learn, it takes a little while to get used to how content blocks work and requires more clicks overall to get the job done. 
When it comes to SEO, Squarespace also has a separate SEO tab for each page or blog post that allows users to customise details like meta descriptions and title tags. However, there are limitations to SEO that depends on the templates you choose and can become an issue if you intend to build larger, more complex websites. 
In terms of mobile-friendliness, the Squarespace website builder offers responsive designs which adapt to all seen sizes where content is stacked vertically for smaller screens, allowing users to easily scroll through your content rather than pinching and zooming into various parts of your webpage. 
As for e-commerce features, Squarespace offers everything you need from their Business plan onwards, making it easy to sell products and services online. Its features are more or less comparable to Wix, as both offer a range of payment options, shipping methods, tax calculations and more. That said, Squarespace still offers a more visually pleasing solution. 
Squarespace is also a pricier option compared to Wix, with its Business plan starting at $18 or €17 a month compared to Wix at  $17 or €15. Before committing to a plan, users can take full advantage of their 14-day free trial first. 
Who should use Squarespace? 
While Squarespace offers beautifully crafted templates and stunning website designs out of the box, its learning curve might be a deterrent for new users. If you're looking for a beautiful website and your pharmacy's brand relies on strong imagery to stand out, Squarespace would be a great option for you.
WordPress Website Builder
WordPress is an open-source website builder that has established market dominance over the years. Almost 50% of all the websites on the internet are built with WordPress.
It offers one of the most customisable website builders on the market, with free and paid plugins to meet a range of different business requirements. Popular plugins include Yoast SEO, WooCommerce, Jetpack and Elementor. When using plugins, users need to make sure to have the latest versions installed at all times. It's important to note that incompatible plugins could break your website. 
To get up and running quickly, WordPress also offers the largest selection of plug and play themes (also known as templates) that are free or paid. Paid themes, also known as Commercial themes, are often run by web developers who offer paid support services, from installing the theme to your WordPress site to offering a demo, to long-term maintenance and bug fixes. This can reduce the time it takes for businesses to get their websites up and running. 
More technically advanced users who are familiar with HTML and CSS will find WordPress to be the ideal choice, especially when your business grows and your digital marketing needs grow alongside it. A lot of digital marketing tools like HubSpot and MailChimp have plugins created for WordPress, which makes it easier to ramp up digital marketing efforts too. 
While hosting on WordPress is free to start and is included in all their price plans, as your site grows and you require more bandwidth, you could look into other hosting solutions like BlueHost or GoDaddy. 
The biggest drawback to WordPress is its complexity and steep learning curve, especially for beginners and those who have no interest in learning how to code. 
Who should use WordPress? 
I'd advise medium to larger pharmacies to consider using WordPress because of its flexibility to meet complex business demands. While there might be a steep learning curve, larger companies should be able to outsource the initial website building to an agency or contractor, and perhaps train someone internally or have a freelance web developer on retainer to help with long-term maintenance and upgrades. 
Choosing the right website builder for you
Your website will become an integral part of your business as more consumers go online to search and purchase health products and services. The website builder you choose will depend on your business goals and the resources you can leverage to help build and maintain your website. 
Good luck!
Get your pharmacy online today
Get your pharmacy online and let customers book appointments and consultations, and even purchase products from your e-commerce store. Interested in taking your business to the next level?